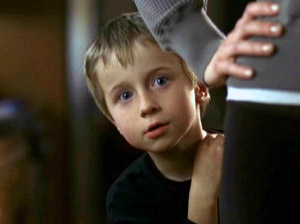 Zack Vasser is the son of Dan Vasser and his wife Katie. The Vassers live in San Francisco. Zack plays the piano, and adheres to a special lesson from his father: "Practice plus confidence equals success."
Dan and Katie originally tried to hide Dan's time travelling from Zack, despite the fact that they agreed he would probably find it easier to understand than most adults, having a young, imaginative mind. However, he watched his father travel back in time, and became convinced that his father was magic. Dan and Katie continued to let him believe this, rather than try and explain something they are unsure about themselves.
He discovered the money Dan aquired from Dylan McCleen's jacket, but Katie told him that he was not to play with it. However, when Zack and his uncle Jack were home alone one time, Zack showed the money to Jack, hoping to use it to order pizzas. Jack launched a police investigation on Dan when he discovered it was the stolen money of Dylan McCleen.
Ad blocker interference detected!
Wikia is a free-to-use site that makes money from advertising. We have a modified experience for viewers using ad blockers

Wikia is not accessible if you've made further modifications. Remove the custom ad blocker rule(s) and the page will load as expected.