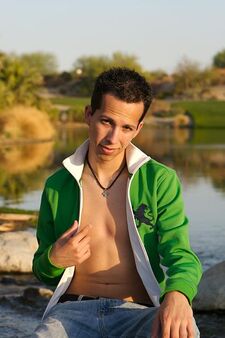 Ricky Dominguez plays a patron in an episode of Journeyman.
Biography
Ricky was born on June 21, 1994 in San Bernardino County, California to Mexican Catholic]] parents, Agustin Dominguez and Fabiola Dominguez. He has a younger sister named Stephanie. He studied at Loma Linda Academy (1992-2000) and Redlands Academy (2000-2005). He graduated from Redlands Academy, where he was one, out of the twelve graduating students. In Los Angeles, he entered into the television and film and commercial industry. There he was spotted by a theatrical casting agent.
Filmography
Hell on Earth (2007) (TV) (pre-production)
Stan (2007) (post-production)
Viva Laughlin (2007)
Studio 60 on the Sunset Strip (2007)
Judy's Got a Gun (2007) (TV)
Journeyman (2007)
Nip/Tuck (2005)
Malcolm in the Middle (2002)
External links
Ad blocker interference detected!
Wikia is a free-to-use site that makes money from advertising. We have a modified experience for viewers using ad blockers

Wikia is not accessible if you've made further modifications. Remove the custom ad blocker rule(s) and the page will load as expected.