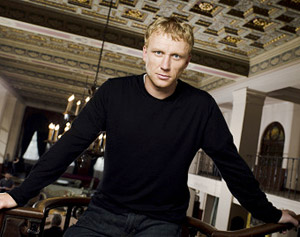 Kevin McKidd (b. 1973) plays Dan Vasser on Journeyman.
McKidd was born and spent his childhood in Elgin, Moray, Scotland. His first professional role was in the television series Father Ted; Kevin played Father Deegan in the 1996 episode A Christmassy Ted. Some of his subsequent roles include Tommy in Trainspotting and Malky Johnson in Small Faces.
He is one of the stars of the joint HBO/BBC series Rome, where his portrayal of the soldier/politician Lucius Vorenus has received critical acclaim.
Kevin McKidd is married to Jane and has two children; Joseph and Iona and lives in Bedford, England.
External links
Ad blocker interference detected!
Wikia is a free-to-use site that makes money from advertising. We have a modified experience for viewers using ad blockers

Wikia is not accessible if you've made further modifications. Remove the custom ad blocker rule(s) and the page will load as expected.