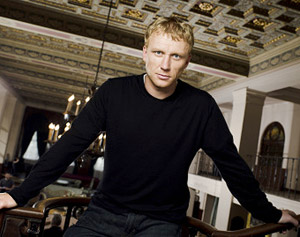 Kevin McKidd (b. 1973) plays Dan Vasser on Journeyman.
McKidd was born and spent his childhood in Elgin, Moray, Scotland. His first professional role was in the television series Father Ted; Kevin played Father Deegan in the 1996 episode A Christmassy Ted. Some of his subsequent roles include Tommy in Trainspotting and Malky Johnson in Small Faces.
He is one of the stars of the joint HBO/BBC series Rome, where his portrayal of the soldier/politician Lucius Vorenus has received critical acclaim.
Kevin McKidd is married to Jane and has two children; Joseph and Iona and lives in Bedford, England.
External links