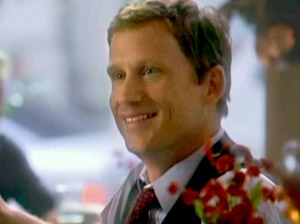 Jack Vasser is Dan's brother. Jack Vasser is a police officer for the San Francisco Police Department.
Jack was previously romantically involved with Katie, their relationship having failed as a result of what Dan identifies as being Jack's fault. Sometime later, after the death of Livia, Dan and Katie married and had a son, Zack. Due to this, Jack and Dan only get along begrudgingly.
Jack holds still some feeling for Katie, because he tries to bring up Dan's erratic behaviors attention to Katie as indicator that Dan is having same gambling troubles. Jack also mentions to Katie that Dan was meeting up with Livia Beale in his journeys.
Ten years previous, the two brothers were close. Jack still holds some concern for his brother when Dan starts going missing for days at a time, urging him to "get help." They're still close enough that Dan can call his brother for a ride home, after he's returned from a trip through time.