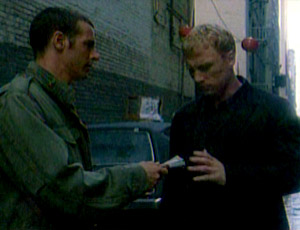 While shopping at a grocer's market with Katie, Zack becomes separated from Dan when he's pulled back to 1975. There, he encounters Dylan McCleen, an alias for a man that history records as a terrorist who skydived out of a plane he hijacked who was never found.
Featured Music
"Black Water" by Doobie Brothers
"Shooting Star" by Bad Company
"Shelter from the Storm" by Bob Dylan
Historical References
Jack makes a joke about Dan's explanation for why he disappeared, referencing Alfred Hitchcock's 1958 film.
Dan: I got sick, Vertigo, or...
Jack: What'd you fall in the bay?
The film also takes place in San Francisco, where the female lead throws herself into the bay by the Golden Gate Bridge.
A poster advertisement for Steven Spielberg's Jaws can be seen on a bus.
Cast
Regulars
Guest starring
Co-starring
Ad blocker interference detected!
Wikia is a free-to-use site that makes money from advertising. We have a modified experience for viewers using ad blockers

Wikia is not accessible if you've made further modifications. Remove the custom ad blocker rule(s) and the page will load as expected.