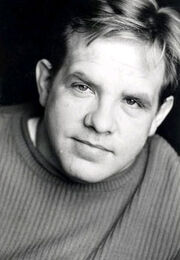 Brian Howe plays Hugh Skillen in Journeyman.
Brian is well known for his portrayal of a stockbroker named Jay Twistle in the film The Pursuit of Happyness. He has also appeared in a number of roles in television series including Crossing Jordan, Judging Amy, The Unit, Without a Trace. He is also remembered for his role of Dr. Roger Fleming, an evil scientist who awakens the skeleton in the 2001 science-fiction spoof The Lost Skeleton of Cadavra.
External links
Ad blocker interference detected!
Wikia is a free-to-use site that makes money from advertising. We have a modified experience for viewers using ad blockers

Wikia is not accessible if you've made further modifications. Remove the custom ad blocker rule(s) and the page will load as expected.