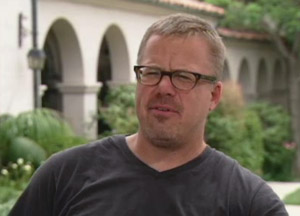 Alex Graves is an executive producer and director for Journeyman. He was producer, then supervising producer, then co-executive producer, then executive producer of The West Wing. In between directing the pilot episode of Journeyman, he directed the pilot episode of The Nine and executive produced it.
He has won 2 Primetime Emmys: both for Outstanding Drama Series (The West Wing) in 2002 and 2003. He won a Television Producer of the Year Award in Episodic for The West Wing in 2002. He has also had 9 other nominations.
As well as directing and producing, Graves wrote the episode "Mr. Frost" of The West Wing in 2005. He also wrote, edited and worked in the sound department on the 1995 Romance Film The Crude Oasis, starring Jennifer Taylor and Aaron Shields.
Since the cancellation of Journeyman, Graves has begun work on the drama series written by J.J. Abrams Fringe as the executive producer, and has since started work on NBC's Day One.