Aeden Bennett (b. ca. 1970) is a real estate developer in the 1990s who kidnapped two girls and held them captive. His story is featured in the Journeyman episodes "Emily" and "Blowback". He is played in the series as a 10-year-old boy by Colin Ford and as an adult by Raphael Sbarge.
History
Childhood
Sometime before 1980, Bennett's mother left his father (a San Francisco police officer) for a plumber. Bennett's father blamed him for the break-up; keeping him out of school and locked up in his room on the second story of their home in the peninsula area of San Francisco. Dan Vasser found Bennett here in 1980 after he appeared in his front yard.
Whilst in 1980, a young Bennett helped tend to Dan's wounds, and gave him one of his father's shirts. After giving Bennett some food, Dan disappears again.
Emily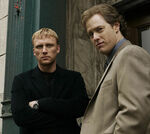 Bennett kidnapped a young girl, Emily, who in Dan's timeline had gone missing and was later found dead. But Dan rescued her from a building Bennett owned when he went back to that time, and changed history.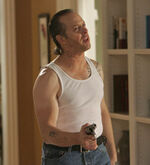 He later followed Bennett to find out of he was holding other girls against their will. Bennett was found in 1995 using the brand new technology of Internet chat rooms to lure girls to him. But after he confronted Bennett, Dan quickly vanished back to 2007. Dan later reappeared and after attacking Bennett, he discovered a second girl that Bennett had locked up. Dan called the police and Bennett was sentenced to six years in prison.
Blowback
In 2007, Bennett was freed from prison, and managed to located Dan at his home in San Franscisco. After Katie and Zack left, he entered the family house and shot Dan. Before he can be killed, Dan vanishes into the past, and a frantic and confused Bennett tricks Katie Vasser into coming home, and holds her at gunpoint. He shoots Agent Richard Garrity when he arrives at the Vasser house, now aware of Dan's time travelling. When Dan returns, Bennett is eventually talked out of the house by Dan, who reminds him that Dan is the man who came to his house when he was a child and fed him. With the help of his brother Jack, Aeden is taken away by police.